Watermead is a beautiful area located north of Aylesbury in Buckinghamshire. The village is perfect for nature lovers thanks to its wild bird-friendly lake and countryside walking routes. The Watermead lake is excellent for a short walk and feeding the ducks, and it also has an outdoor gym, a fitness trail for families and a large playing field. The lake is also a fantastic spot for bird watchers as it is home to various wild birds. Watermead is one of the newer parishes in Buckinghamshire and has excellent transport links to Aylesbury town centre. The village also has a piazza which is home to the Watermead community centre, local shops and amenities. The surrounding area of Aylesbury has many good schools, shops and things to do for the whole family. Properties in Watermead have been celebrated for their original design since they were built in the 1980s. 
Does Watermead have good pubs and restaurants?
Whether you are looking for a hearty meal after a walk along the lake or a place to host a family celebration, there are plenty of excellent pubs in Watermead and the surrounding area. If you're looking for a pub closer to home, the Watermead Inn sits right by the lake in Watermead piazza. Further afield, there are numerous pubs and restaurants in Aylesbury and the surrounding area. 
Best pubs in Watermead
The Watermead Inn
The Watermead Inn is located next to the lovely Watermead lake. It is a traditional pub with a cosy atmosphere. The pub is the local for residents of Watermead and is only a short walk from most of the houses in the village. Complete with comfy sofas, plush armchairs and large screens showing sports, the Watermead Inn has a very relaxed feel. The menu is substantial and features a wide choice of pizzas, burgers, and traditional pub food. The all-day menu also has a lot of Mexican-inspired dishes like nachos and quesadillas. In addition, there's a small children's menu for dinner with the whole family and a small outdoor area on the lake. The Watermead Inn also has a Sunday roast menu for a hearty meal after a stroll around Watermead lake.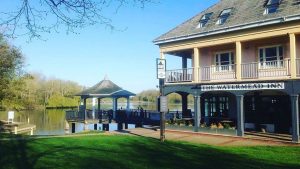 The Horse and Jockey
The Horse and Jockey is a five-minute drive from the centre of Watermead. The pub serves fantastic food in a warm and welcoming setting. The pub has a spacious beer garden for meeting your friends in the sunshine and a cosy interior for the colder months. Located just off the A4157, The Horse and Jockey is a perfect spot to meet friends and family from neighbouring towns and villages. The menu at the Horse and Jockey is extensive and caters to families with young children, vegetarians, and vegans. The menu at Horse and Jockey is a typical pub menu with burgers, pasta dishes and sharing platters. Additionally, the pub has a bottomless brunch on the menu with a delicious brunch menu and bottomless prosecco for those looking for a longer, more relaxed weekend morning. The Horse and Jockey also has a regular brunch and a Sunday roast menu.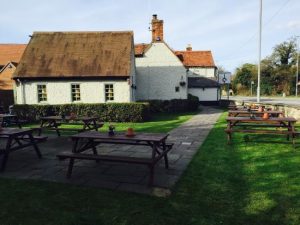 Harvester
Harvester Aylesbury is a 10-minute drive from Watermead and is a fantastic place for families. Harvester is famous for its rotisserie chicken and grilled meat, but also has an extensive vegetarian and vegan menu for those skipping the meat. Harvester Aylesbury has an excellent breakfast menu with many options for adults and children. The pub has a relaxed style and caters mainly to families making this the perfect location for a birthday meal or a get-together. 
Watermead and the surrounding area are home to many excellent pubs and restaurants, from popular chains serving traditional pub food to local establishments with a great view of the lake. So if you're visiting or thinking of relocating to Watermead, you have plenty of lovely food options. Learn more about things to do in Watermead. And if you're on the search for a house in Watermead or a house in Aylesbury, check out our area guides for more information on these locations.